A brief history of Lich
Lich dates back to the year 790, when it was first mentioned in the "Codex of Lorch" as a Carolingian settlement. Around 3000 b.C. already there was some sort of settlement of the Linear Pottery Culture in the area as the Megalithic Tomb near Muschenheim serves as evidence. Just outside Lich there can be found the roman wall called "Limes" (German equivalent to the english "Hadrian's wall"), thus southern villages of Lich once belonged to the Roman Empire whereas Lich's town center was just outside the Empire. The roman fort "Alteburg" was erected in the years 83 - 85.
At the end of the 12th. century Cistercian monks established Arnsburg monastery near the old fort reusing its stones. The monastery was donated by Count Kuno of of Hagen-Münzenberg.
An heir of the line of Hagen-Münzenberg, Werner I. of Falkenstein 1273 became regent of Lich. On March 10th. 1300 Count Philipp III. received the town privilege from King Albrecht I. of Austria. In 1306 the Count raised a fortified tower on the basement of the town wall. As well he donated the "Marienstift", a collegiate church, in 1316. In den Jahren 1511 bis 1594 entstand die spätgotische Marienstiftskirche, Schmuckstück der Altstadt. Eine Anzahl wertvoller Grabdenkmäler, darunter die weit über den heimischen Raum hinaus bekannte Skulptur Kuno von Falkensteins und seiner Gemahlin Anna, geben Zeugnis mittelrheinischer Gotik.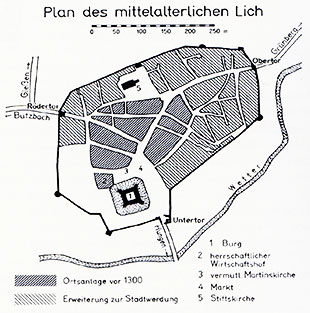 With the extinction of the Falkenstein dynasty in 1418, the Counts of Solms became the new regents of Lich, who started to form Lich into their residency. First and foremost Count Philipp of Solms (1468 -1544) who started the construction of the church "Marienstiftskirche". His son Count Reinhard I. (1492-1562) shaped during his regency the character of Lich in the 16th century, as it still partially exists today.
In 1792 the Solms-Lich line of the Counts of Solms were elevated to the rank of Prince.
In 1854 the Lich Private Brewery was founded, one example of industrialisation and craftsmanship expanding in Lich in the 19th century. An additional example of the successful foundation of a company is the organ builder company "Förster & Nicolaus", founded in 1842. The cinema "Traumstern", a special program cinema ist well well-known in a wide area.
Due to the number of refugees after World War II, the number of inhabitants of Lich nearly doubled. In the last years Lich experiences another bigger influx of inhabitants due to its outstanding qualitiy of life.