Lich today
Living in a timber-framed and modern environment...
... in Lich town center. Architecture, tradition and modern life are combined harmonically in the town center and determine the feel of living in Lich.
Many timber-framed houses are home to modern shops, Lich town center being a lively quarter. Different schools and many sports clubs and other communities invite young and old people to many different activities.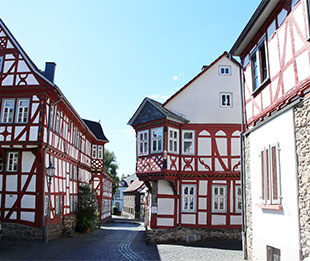 Living in Lich everyone can find activities to take part in: A swimming pool and the little lake for swimming near the woods, a golf course and a good number of different sports clubs are to be found. The cultural life in Lich offers a big variety such as a number of different choirs and musical groups, organisations exploring the history of the town, a cinema and many concerts of classical and modern music.
Medical care is in the hands of many doctors and the hospital in town. Traditional firms as the brewery or the organ builders as well as modern ones have their home in Lich.
Many restaurants and a good number of exhibitions and little festivals take place in Lich around the year, such as the Historical Market. Within the last years many new houses were build showing that Lich is a good place to live./p>