Bettenhausen
Bettenhausen is mentioned first in 771 in the "Lorsch Kodex". It is thought, that in the 13th and 14th century there was an hermitage of Beguines looked after by Arnsburg monastery in the village. 1350 the knight Kraft of Bellersheim, his wife and his brother donated grain to the hermitage. From 1423 Bettenhausen belonged to the Counts of Solms.
On April 5th 1635, in the middle of the Thirty Ears War Bettenhausen suffered the biggest harm of its history: Ernst von Mansfeld, stationed in nearby Lich, had several soldiers, stationed in Bettenhausen, executed. Their comrades got furious and burned doan the whole village. In 1670 Bettenhausen had more or less recovered.
Protestand church
In Bettenhausen there is an extraordinary church in Baroque style. The church tower dates back to the 13th century, when Bettenhausen was still under the influence of Arnsburg monastery. The church itself was built in1747 - 1748 as a baroque hall with a hip roof. Inside the succo ceiling is of interest, ornaments of it mirrored at the organ, pulpit and altar. From invoices of the builders it is known, that during the building of the church 3200 liters of beer were drunk. All of the interior of the church is from buildings days, the organ built in 1854 by Joh. G.Förster. A speciality in the church is the death-crown of the 18th century.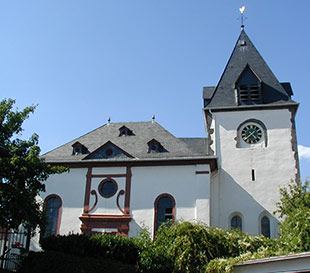 Interesting buildings
The walls of the cemetery which resemble castle walls.
The symmetrical half-timbered house Siebenhäsergasse 3 dating back to the 17th and 17th century with the adjacent gate "Hüttenberger Tor" to the left.
The house "Obergasse 10" with its main building from1789 and side wing from 1664.
the half-timbered house "Obergasse 14", built in the 17th century.