Rathaus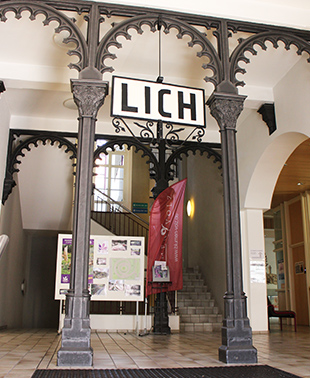 The construction of the Town Hall was started in 1847 ant at its completion in 1850 all people in Lich were proud of their new Town Hall. The appearance of the building is characterized by elements of historism.
Thus, during planning and construction of the extension building 1980 - 1983 there was the exiting challenge of unifying the traditional elements with modern stylistic elements and funtionality.
The foyer of the Town Hall is dominated by the stairs which tell from the old days, when the residents of Lich were on their burdensome way to their mayor to discuss important projects related to the future of their town. Something, that hasn't changed till today.
The fountain of the Market Square, inaugurated in 1985, is a replica of an old fountain, formerly located at the crossing Garbenteicher Straße / Gießener Straße. The fountain column shows the coats of arms of Lich and its surrounding villages.