Church Square
Between Marienstiftskirche and Schlossgasse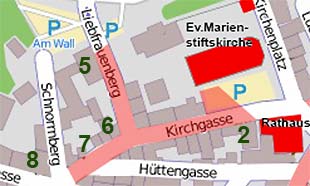 Textorhaus
The Textorhaus
(2)
is an extraordinary example of the art of construction in the Middle Ages. it was raised by the rich bursar Jakob Textor on a basement from the 15th century and a ground floor from the 16th century and completed in 1632.
The generously with coats of heraldic arms and guild signs decorated oriel windows in the Franconian style which accentuate the grouped windows, and the inspirations in the wooden beams disclose Jacob Textor as a wealthy man and ecangelical CHristian, respectivley. Unfortunately he could only spend three years in his new house because he and his wife died of the plague in 1635 as did more than 1200 people in thatyear, which was two thrids of the inhabitants of Lich.
Today the Textorhaus accomodates our museum of local history which displays a collection of often unique objects.
Liebfrauenberg
- In the the little street Liebfrauenberg, next to the old town wall you find yourself in front of the former parsonage (5), which was the home of the Protestant pastor till 1963. Originally the house was built at the beginning of the 16th century, however the reconstructions carried out during the centuries did not leave much of its original charm.
- Not far from here, at the end of Liebfrauenberg, a well-preserved half-timbered house Kirchgasse 10 (6) displays an unusual stone at the corner of its basement wall - an ancient stone with an engraved cross. This stone had been part of a medieval sacred buildung, presumably the old parish church, which possibly had been located in the area around our Princely castle. Thus, recycling is not an innovation of the 21st century. The construction of the upper floor had been dated to the year 1674, a year which denots the time where there was a slow recovery of the economy and building activity in Lich after the Black Death had killed many inhabitants in 1635.
Kirchgasse
- At the end of Kirchgasse there is another remarkable half-timbered house on a strong basement made of basalt stone - the little Rose Garden - Kirchgasse 2 (7). The construction of the house with its characteristic oriel window and old wooden entrance door has been started in the 16th century while the oriel window had been added later in the 17th century.
- The "Frankfurter Hof", Braugasse 21 (8) in the Braugasse is a half-timbered house is one of the oldest buildings in Lich. The base has been constructed around 1400 as indicated by the type of the framework of the ground floor ceiling and its arched cellar.