Castle lane / Schlossgasse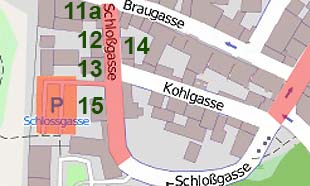 Schlossgasse 16
- The house Schlossgasse 16 (11a) has been sold by its owners to the monks of Arnsburg monastery in 1318, who owned several buildings in the street during the Middle Ages. From this period is the basalt stone wall in the first floor, while the wooden framework has been erected in the 17th century. The Dean of the Collegiate church Marienstiftskirche lived in this house at that time. In a historic list of a billeting officer it is said, that reformer Martin Luther stayed here overnight on either way to or from the Reichstag in Worms 1521.
Schlossgasse 14 and 12
The house Schlossgasse 14 (12) with its wonderful oriel window, the painted diamond ashlars on the corner post and the remarkable wooden framework had been bought by the secretary of the Count of Solms, Johann of Rehe, from the monks of Arnsburg monastery in 1563 together with th half-timbered house Schlossgasse 12 (13). He was reconstructing both houses according to the style of his time and finished their reconstruction in 1571/1572.
Schlossgasse 7/9
The impressive half-timbered building with its high gable end at the corner Schlossgasse/Kohlgasse (14), which lines the Schlossgasse all the way up to the small parking lot, was bought by Otto of Rehe, the son of Johann of Rehe. Together with his wife, Anna of Rehe, he rebuilt the building in 1607 as indicated by the inscription around the basement entrance, which later was bricked up. Unfortunately, upon renovation in later times, the former beautiful decoration including all coats of arms, the building inscription and the ornaments on the facade of the house had been removed. In the 19th century the house got devided into two.
Westphalenscher Hof
The so called "Westphalensche Hof", Schlossgasse 8 (15), has been named after his last owner, the late Governor Friedrich Ernst of Westphalen and his wife Juliane. The Westphalensche Hof is one of the few half-timbered houses, where the changes and reconstructions can be traced back to the 15th century supported by documentary evidence. Thus, the wooden framework in late Gothic style to the yard side has been built by Konrad zu Schweinsberg, who bought the estate in 1478 together with his wife Else.
The Westphalensche Hof is adjacent to the custodian house of the estate which is at the border of the large castle complex. Nowadays, after a complete renovation of the estate, the custodian house and the former stables accomodate a health center and apartments.