Schloss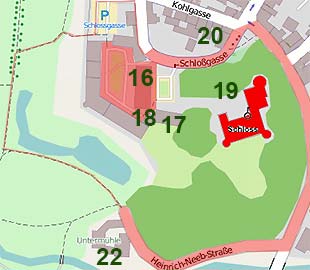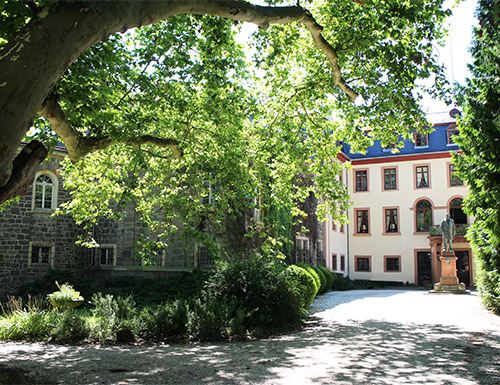 The castle (19) of the Princely House itself is a beautiful building which originally had been a water castle with four turrets and was part of the fortification of the nearbay ford in the Wetter. Since its erection around 1255 the castle was reconstructed several times during the next centuries by the Counts of Falkenstein and the House of Solms-Hohensolms-Lich to what now is Lich Castle. It was given the main part of its nowadays appearance in the Baroque period in the second half if the 18th century, and it has been finished by the reconstruction of the courtyard façade by the architect Georg Moller in 1836 and the continuation of the building at its north side by the Gobelin Hall in 1911.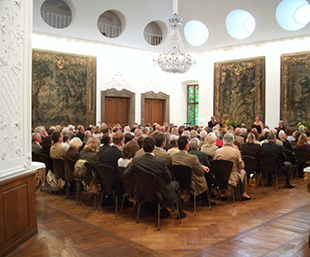 The monument of Prince Ludwig of Solms-Hohensolms-Lich in the courtyard reminds on close to 60 years of regency, in which he remarkably determined the development of Lich in the 19th century. He was the initiator of the reconstruction of the Castle Grounds in 1828 in a classical English style. The reconstruction of the park was a wedding gift of Prince Ludwig to his wife, Princess Marie of Isenburg-Büdingen, for their marriage in 1829. The castle pond is a reminder of the historical moat around the ancient water castle.
The Lower Mill (22) at the entrance to the Castle Grounds had been erected in 1719 after the comital government had given permission to build the mill.
Close to the entrance of the princely courtyard is the former Princely Court Apothecary (20). The first charter from the Princely Court was given to Philipp Jacob Müntz in 1703, who ran his ancient apothecary close to the town hall. Later on his successor Johann August Schwenk moved inti the newly erected building in 1798. The timeless façade of the house had been built by Ludwig Weber, the new owner, during the reconstruction of the building between 1912 and 1915.
Right to the Castle there is the Princely Stable (Marstall) (17), erected by the architect of the Princely House Ruckstroh. It ist still the home of the Princely horses.
The formerPrincely Exchequer (18) had been built in 1858. Next to it is the entrance to the custodian house (16) of the estate. The replica of a Roman fountain in the yard invites to take a little rest.