Birklar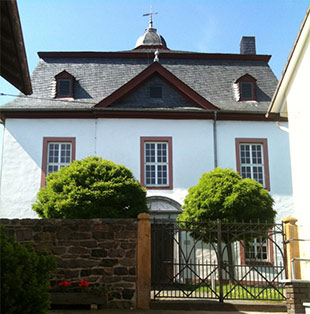 Birklar is first mentioned in 791 in a list of estates belonging to Lorsch monastery. 400 years later it belongs to Arnsburg monastery.
In the 13th century there had been a knight "of Birklar". From 1419 Birklar belongs to the Counts of Solms-Braunfels.
1859 for the first time a school in Birklar is mentioned in old books. Further one can learn, that there was a central water supply shortly before World War I.

In the street "Hundsgasse" (dogs alley) there is a fountain with ripped stones from the vaulting of Arnsburg monastery.
At the former school building there are elements of the Art Deco style. Interesting is the roof with its different materials and manyfold gables and window-shapes.
The barn of the former estate of the Counts of Solms-Braunfels at the "Freie Platz" (Free Square) has elemnts in the Baroque style whereas the administrative building has Classisistical elements.
Protestant church
It is knowtn that Birklar in the 14th century had its own priest, there it had to have a church of which no remains are left.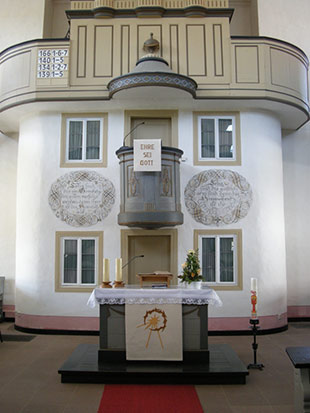 The present church is part of a concent building of Arnburg monastery. It housed the monastery library, built 1755. After the secularisation of the monastery the building was sold to Birklar and rebuild in the village as a church with the tower added to it.
The church is a typical protestant (reformed) building with the focus on the sermons: The arrangement of altar, pulpit and organ in one vertical line and pulpit and organ built into a vestry screen with windows. Remarkable are the round corners of this vestry building. Typically reformed the church shows now painting or stained glass windows and has pews to the sides that are centered to the pulpit.